English language workshops Autumn term 2022
Studying and researching in another language is an amazing achievement but can be challenging no matter how fluent you are. The English language programme aims to support and guide you through some of these challenges offering tailored Academic English seminars, Social English workshops, and much more.
The programme is delivered by the Languages EAP Team (English for Academic Purposes) and is free for students and researchers of the University of Exeter in Cornwall.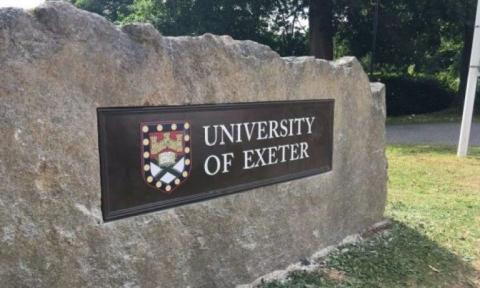 Courses
Sessions are weekly starting in week 2 (Oct 3), although you can join at any time. Please read the descriptors below and use the link at the foot of the page to let us know which courses you're interested in joining.
Academic English 
These workshops for undergraduate and post-graduate students run in parallel to your degree course. They aim to develop the advanced writing and language skills you'll need for your studies. The sessions are tailored to your level (undergraduate or post-graduate) and discipline area to allow for a focus on specific language and style e.g. Language for Biosciences or Language for Business and Law. If English is not your first language, it's strongly recommended that you join the sessions to see how we can help you make the most of your studies.  
Language for Research and Publication
These sessions for post-graduate and post-doctoral researchers provide an opportunity to develop your language skills in the context of your research. We'll look at academic writing style and expression, as well as presentation and discussion skills. There will be opportunities to discuss your research and gain peer feedback in a friendly and supportive atmosphere.
Social English 
These weekly sessions consider the historical and cultural background to British society and institutions, and provide an insight into daily life. The language input focuses on functional English for everyday situations and colloquial expressions. We're also happy to answer any questions that you have about daily life and English language. 
Sounds of English 
These workshops focus on the pronunciation and delivery of spoken English, and how to develop your speaking and listening skills. We'll also be looking at aspects of connected speech, and discovering why it can be difficult to follow spoken English! 
Professional Communication 
This series of 5 workshops focuses on the language and conventions of communicating in a professional environment, including CVs and job applications, as well as email correspondence, and expressions for meetings online and in person. The workshops are repeated across the year so you can fit them around your timetable.  
Let us know which sessions you're interested in by completing this form - you'll need your university login and password. We'll email your university account with details of times etc. the week before the classes start on October 3rd.
Tutorials
Students can also book 1-1 tutorials for language and writing skills feedback on pieces of work. More details available here.
Contact the Languages EAP Team with any questions.