Language Skills Development
Studying and researching in another language is an amazing achievement but can be challenging no matter how fluent you are. The English language programme aims to support and guide you through some of these challenges offering tailored Academic English seminars, Social English workshops, and much more.
The programme is delivered by the Languages EAP Team (English for Academic Purposes) and is free for students and researchers of the University of Exeter in Cornwall.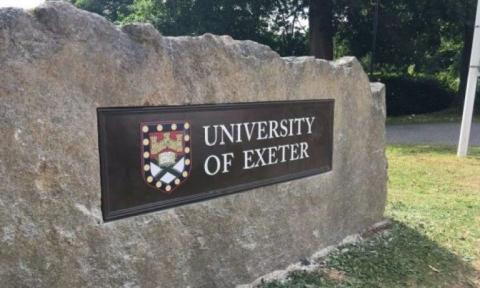 Academic Language Skills
Sessions are weekly and you can join at any time. Please read the descriptors below and use the link at the foot of the page to let us know which courses you're interested in joining. We'll then send you the details of the location and time.
Subject-Specific Academic English
Open to undergraduate and post-graduate taught students, these weekly workshops run in parallel to your degree course. They aim to develop the advanced writing and language skills you'll need for your studies. You'll be grouped by level (undergraduate or post-graduate) and discipline area to allow for a focus on specific language and style e.g. Language for Renewable Energy Engineering, Language for Business and Law, or Language for Biodiversity and Conservation. The focus of each session is negotiated depending on upcoming assignments and the group's language interests. If English is not your first language, it's strongly recommended that you join the sessions to see how we can help you make the most of your studies.  
Writing for Research and Publication 
These workshops are open to doctoral and post-doctoral researchers who are currently  writing up their research. We'll look at aspects of writing such as style and expression, flow and cohesion, and techniques for editing. There's also an opportunity to gain individual feedback on your writing each week and to request input on particular writing skills. Importantly, there's a friendly supportive atmosphere to discuss your research and gain useful feedback.
Communication Skills for Post-Graduate Researchers
Open to doctoral and post-doctoral researchers, these weekly workshops focus on developing the spoken language skills needed for a wide range of situations. This includes participating in meetings and discussions, making presentations, and, depending on participants' needs, leading teaching sessions. The meetings will provide a context to develop your grammar, vocabulary and speaking skills as well as opportunities to discuss adapting to everyday life in the UK. The course will include writing an abstract to be used as a basis for discussion but other aspects of written communication are covered in the Writing for Research and Publication workshops.
General Language Skills
English in the News
Would you like to find out more about what's going on both in Britain and around the world? These sessions will give you the chance to discuss the hot topics of the week, increase your vocabulary and develop your speaking and listening skills in a relaxed atmosphere.  
Language in Use
These weekly sessions are a chance to review grammar and vocabulary that you may have studied a long time ago or just want to feel more confident about using. We'll look at elements like tenses, prepositions and articles in a context, and why we use the structures we do, in speaking and writing. The classes are also a good way to meet other international students and ask questions you have about the English language in a relaxed environment.
Family classes
Open to the spouses and partners of staff/students. These weekly sessions focus on functional English language skills needed to interact with people in shops, restaurants and social situations etc. A great opportunity to ask questions about the English language or British culture, to meet other family members in a similar situation and learn in a friendly, relaxed environment.
Register your interest using the link below. You'll then receive and email and outlook calendar invitations with the details of the sessions.
Tutorials
Students can also book 1-1 tutorials for language and writing skills feedback on pieces of work. More details available here.
Contact the Languages EAP Team with any questions.