As part of a community of thinkers and learners, you will achieve more, be more critical and be more creative. Even better if you can work across disciplines or with people from different cultural backgrounds.
But the processes of working together can be tricky. Click on this activity to think through these two sides of learning in a group:
ACTIVITY: What are the opportunities and challenges of learning through groupwork?
So getting the most out of groupwork needs focussed effort:
Task, Team, Individual
We think this model of team process (developed by John Adair) is a useful thinking tool which emphasises the interconnected nature of team work. The information on these pages is organised into these overlapping categories:
Task - the task brings individuals together to form a team
Team - individuals work together to complete the task
Individual - individuals learn from the task and the team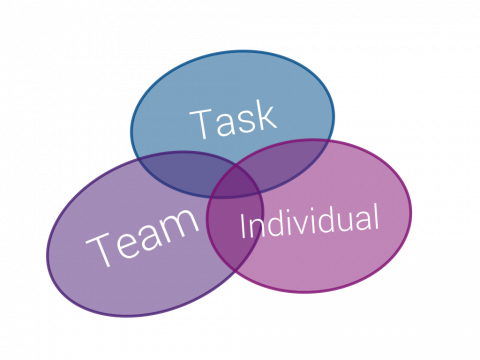 We suggest that, as your project begins, you follow the guidance on the Task page to help you complete the Team Planning Wizard as a group - this can then be a point of reference for all the team. The Team page provides your team with things to think about to help you complete the process together, while the Individual page shows how you can monitor and reflect on your own learning within the team. The Activities page contains ideas and tools your team can use to help you get started and keep on track.
Are you a group or a team?
You may have been set 'group work' or 'team work' - your work may be short or longer term, simple or complex. The principles of working together can be applied in all sorts of situations, so please pick and mix and find the pages that work for you. Good luck!