Update Summer 2023
Falmouth University's subscription to RefWorks will not be renewed after 31 August 2023.
If you are a RefWorks user and wish to keep a copy of references held on your account, you will need to move your saved citations to a new platform before this date.
For more information please see our update on the Library website
What is RefWorks?
RefWorks collects, stores and organises references from books, journal articles, websites and other sources. It inserts references in a variety of formats (e.g. Harvard) into the body of your essay, dissertation or research paper and automatically converts references into properly formatted bibliographies.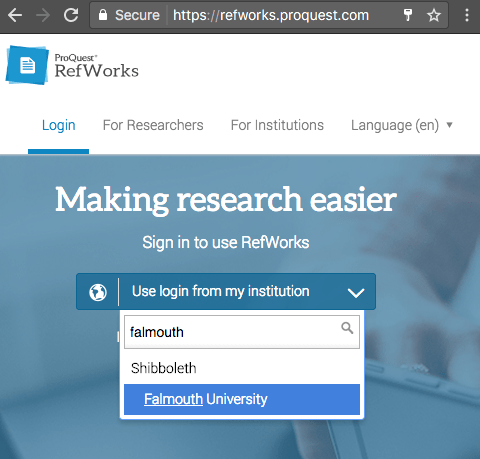 Use the button below if you want to Login to your RefWorks account using your Falmouth email address.
RefWorks YouTube Channel
Other Help via RefWorks Community:
Updates about product enhancements
Blogs highlighting the latest RefWorks news Schedules for webinars and tradeshows.
Videos, interviews, discussion forums and more!
For further assistance with this please contact RefWorks Support.