What is RefWorks?
RefWorks is software that allows you to collect, store and organise references from books, journal articles, websites and other sources. It enables you to insert references in a variety of formats (e.g. Harvard) into the body of your essay, dissertation or research paper and automatically converts references into properly formatted bibliographies.
RefWorks is provided by the library and is free to staff & students at Falmouth University.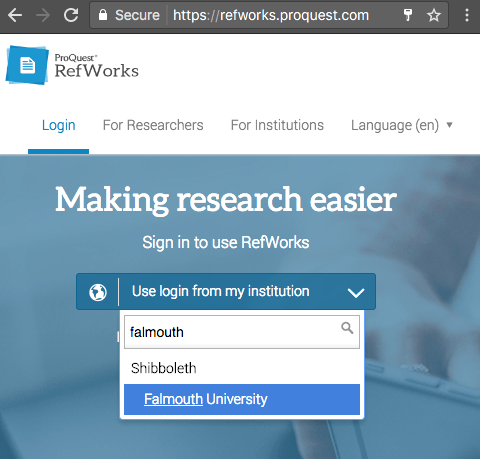 Use the button below if you want to Login or Sign up for a RefWorks account using your Falmouth email address.
RefWorks YouTube Channel
Other Help via RefWorks Community:
Updates about product enhancements
Blogs highlighting the latest RefWorks news Schedules for webinars and tradeshows.
Videos, interviews, discussion forums and more!
Using RefWorks when you leave Falmouth University
RefWorks provides free access to all former students as long as Falmouth University is still a subscriber.
If you are an Alumni or intermitting student you will need to move your account from your Falmouth subscription via backup/restore feature into the RefWorks Alumni-Only area which has its own group code.NB: You will need to obtain the instructions from Dawn Lawrence on how to do this.
If you have left before your course finishes RefWorks can help retrieve your references from your old account. We just need to give technical support at RefWorks your current email address so they can send your references to you.
For further assistance with this please contact RefWorks Support.